HOUZZ: Innovative Aussie home sits atop a gold mine
In association with 
by Rebecca Gross
Two creative brothers experiment with architecture and sculpture to create an award-winning home
Sawmill House is like an architectural artwork, a fitting comparison given it is the collaboration of sculptor Ben Gilbert and architect Chris Gilbert, two creative brothers who love a good challenge. Ben and Chris designed and built Sawmill House together, albeit with the aid of others. As maker and architect came together to work on the design, it became, according to Chris, an "experimental exploration reconnecting drawing with making". Indeed, their small-budget, big-thinking prototype clearly combines the brothers' expertise, and the result – Ben's house – has deservedly won a bevy of national and state awards.
Houzz at a Glance
Who lives here: Ben Gilbert and Tijana Simic with their young son and two dogs, Pedro and Missy
Location: Yackandandah, Victoria
Year completed: 2014
Size: 150 square metres (90 square metres internally); 1 bedroom, 1 bathroom
Architect: Chris Gilbert of Archier
Awards: Winner, 2015 National Architecture Awards, Residential Architecture — Houses (New); winner, 2015 Victorian Architecture Awards, Residential Architecture — Houses (New); winner, 2015 Houses Awards, New House Under 200 Square Metres; winner, 2015 Houses Awards, Emerging Architecture Practice; commendation, 2015 Victorian Architecture Awards, Sustainability; commendation, 2015 Houses Awards, Sustainability
Sawmill House is located on a site that was once a gold mine and later repurposed to be a sawmill – hence the name. It has been designed with raw and refined materials that reference those found in or derived from a sawmill, such as timber planks. In fact, Ben's sculpture studio is housed in the sawmill that still exists on the property.
The project not only played to Ben and Chris' skills, the brothers were also able to learn from each other while working on it. Collaborating on the design and build presented new opportunities for both brothers. For architect Chris, it was the chance to experiment (and on his first large architectural project too), while for sculptor Ben, it was an opportunity to 'make' his own house. Working from a rough plan, Chris says, "we slowly developed the design while physically working on site for the duration of the build."
More info: View more contemporary homes on Houzz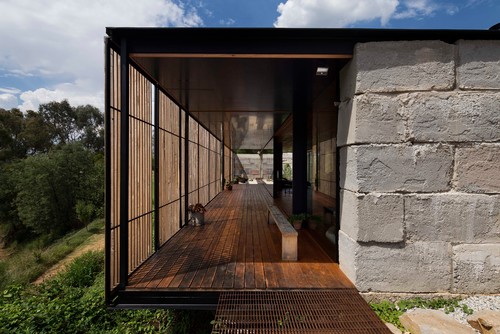 The result is a house that offers unconventional solutions for unconventional living. It is one continuous and adaptable space that pays homage to its site, as well as being imbued with a hand-crafted aesthetic befitting a sculptor. "This design/build approach allowed us to move away from conventional solutions and investigate highly bespoke yet cost-effective alternatives," says Chris. "It's all one space with sliding and pivoting doors, working to divide or open it as a whole. Large sections of the roof and facade are mechanised, entire walls of glass can pivot, and courtyards can be added."
"Sawmill House is a calm, reflective and adaptive space using locally sourced materials, with a focus on natural materials that improve with age," says Chris. Certainly from the outside Sawmill House appears anchored to the landscape, while from the inside it seems to almost float above the valley.
The exterior is constructed with concrete blocks and faced with untreated, rough-sawn mottlecah (Eucalyptus macrocarpa) wood screens. The screens are fashioned into a moveable facade that references the old sawmill. "Over time they pale to grey and will settle the building into its perch on the quarry's edge," Chris says.
For the walls, the brothers used 270 one-tonne concrete blocks that would have otherwise gone to waste, being a byproduct of other construction projects in the region. "They create a patchwork of colour and texture across the facades," Chris explains. "This texture grounds the building, while the colours mimic the sedimentary layers of earth still exposed in the site's former life as a gold mine."
More info: Find home builders in your area.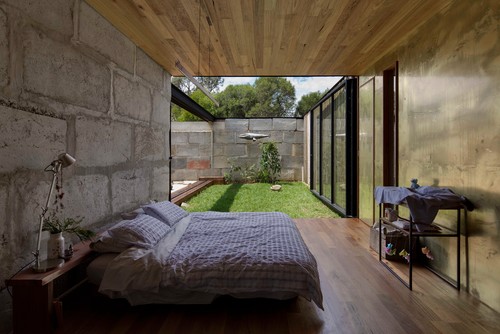 The bricks are left rough and exposed both outside and inside, highlighting their imperfections, particularly in contrast to other more refined materials in the construction.
The floors and ceiling are lined with planks of wood that run longitudinally to accent the length of the space. The timber used, red stringybark (Eucalyptus macrorhyncha), was reclaimed from storm-fallen trees in a forest seen from the house.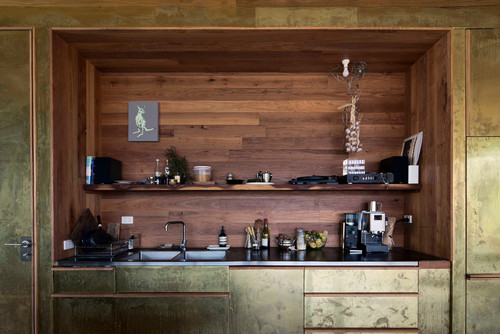 Custom-made brass sheeting is used to cover some of the interior walls, recalling the brass used in sawmills for shimming and machine elements. Supplied by George White Victoria, Chris and Ben made the joinery on site. It is designed to be touched and used. "The brass patinates, showing its use and age as well as reflecting the northern light," Chris explains.
Benchtops are made of mild steel and the thin and elegant Highline Pendant, designed by Archier, hangs over the dining table. It has been designed for both task lighting and subtle illumination.
Being designers and makers, Ben and Chris built more than just the structure of the house. With the on-site development of the design and build, "the custom furniture, joinery and hardware could be designed and manufactured on site in real time," says Chris. This includes the wood-framed sofas, picnic bench-style dining table, lighting and hardware. It also includes the copper sink and toilet-roll holder in the bathroom, which is on a deck that runs along the rear of the bedroom.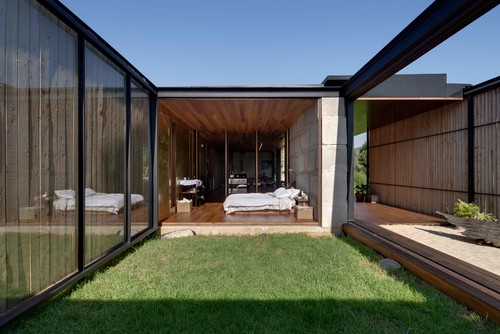 The bedroom has been designed and positioned so Ben and Tijana can "wake with morning light," says Chris. From the inside, pivoting doors reveal and conceal the space at the end of the house plan. The exterior wall, or window in this case, opens out like an enormous door.
A sandpit-cum-garden in the courtyard sits alongside the bedroom. It was "spontaneously curated by a friend who specialises in Japanese sand gardens," says Chris.
With the house's simple structure comes complex ideas: Sawmill House has a highly operable plan that has been configured to adapt to seasonal and climatic conditions. It has a nine-metre-wide double-glazed wall that moves; bi-fold doors that stack; and a 14-metre roof that retracts. In this way, Sawmill House opens to the environment and the deck becomes a living space, playing to Ben and Tijana's love of the outdoors.
More info: Browse popular kitchen designs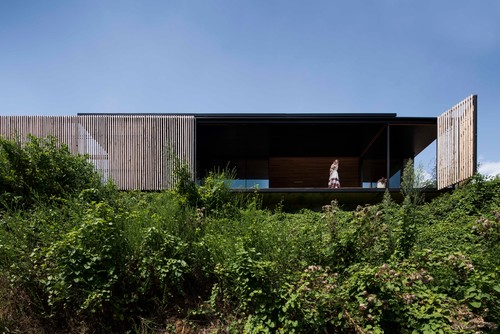 Sawmill House embodies modernism and clarity, tactility and craftsmanship. These characteristics have stemmed from the intuitive relationship between two brothers, who both had the opportunity and freedom to explore the role of being designer and maker. And as Chris takes the skills he learnt into his own practice of Archier, he says, "the knowledge gained through a hands-on approach has been incredibly valuable to the development of our young practice."